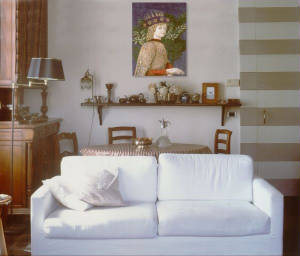 Welcome to HomeIllusions, where we decorate lives!

Hi Folks!! Thinking about decorating your home?

Congratulations!! You have come to the right place to find an interior decorator with fresh ideas!! Set up a free consultation, where we can sit together and discuss the endless possibilities for your home. I take the time to get to know all of your likes and dislikes, your personal style and needs, so we can work together to incorporate your personality into your home. During this initial visit, I unleash the style, interests, ideas, and specific needs of my customers. I inform you about how we can go about achieving your decorating goals together with proper planning and fresh ideas. Remember that your home reflects your lifestyle and who you are...does your home reflect what you want others to see right now? It will when I finish!!!


Our home decoration expertice includes:
Free Initial Visit!!
Themes--Tropical, African, Coastal, Asian, etc.
An unlimited variety of decorating styles to fit your specific needs. (After all you are the most important person in our lives;)
Shopping excursions!
Flooring needs: Refinishing, New Flooring etc.
Lighting needs: track lighting, placement of new lights, replacement of old lights, etc.
Color consultation
Window treatments
Fresh Ideas!
Sketches and plan provided before decorating process begins: Both computer generated and Hand drawn.
Everything to fit around your lifestyle and needs!
And much, much more!!!
Call now or shoot me an email for your free initail visit!
If you think that your home needs some more Energy! Life! Resonance! Do not let another second pass by!!

Call Brenda at 484-716-3337 or email to homeillusions@gmail.com for your free Initial consultation!!!



1100 A-43 West Chester Pike
West Chester, PA 19382
Phone: 484-716-3337


Myself: Who am I?
I am an Interior Decorator; I operate independently and am located in outskirts of Philadelphia (Chester County, to be exact). I hail from St. Louis, Missouri, where only two of my family members is located these days

. We (my siblings and myself) moved to Louisiana, where my father was born, with my father. It is a beautiful place; visit sometime!!! Growing up with an artist as a father, and a rather large home, I became interested in interior decorating, so I read about it endlessly, and practiced in my room at least once per week.

Then we moved...an empty canvas for my practicing purposes. It was a big reward to be able to have a free hand in the decorating process. Needless to say, the home is gorgeous...thanks to yours truly. My dad is a cowboy, so the beautiful decor is in rustic country home style. After my studies in the university, I eloped with my boyfriend at the time, who is now my wonderful and loving husband, who supports my every move.

My histoire ends here, for we moved shortly after marriage, and I began to follow my path into a career of interior decoration. Thank you for visiting my website, and hopefully you found it useful.
Contact Information:
Brenda Duggal
AGE: 23
Female
Location: West Chester, PA
(484).716.3337
homeillusions@gmail.com

Questions or comments? Get in touch with us at: